A common question which arises in Bible study is: what is the right interpretation of the Bible? Dealing with parables at church recently provides a germane point to address this question. What is the "right interpretation"? And, if I did not understand the text the "right" way, does that mean I am "wrong"?
Followers of Jesus find in the Bible the words of God, the words of life. So we put a premium on understanding them rightly. The more time and effort we spend with these words, the more they impact our thinking and actions. It makes sense to be concerned with "right" and "wrong" interpretations.
Interpretation in a different light
I want to introduce the category of "good" and "bad" rather than "right" and "wrong." While these two sets of categories share a lot in common, "good" and "bad" is a more flexible taxonomy. One of the benefits of thinking about interpretations as "good" or "bad" is that we can think about interpretations on a sliding scale.
Consider the following illustration for a minute.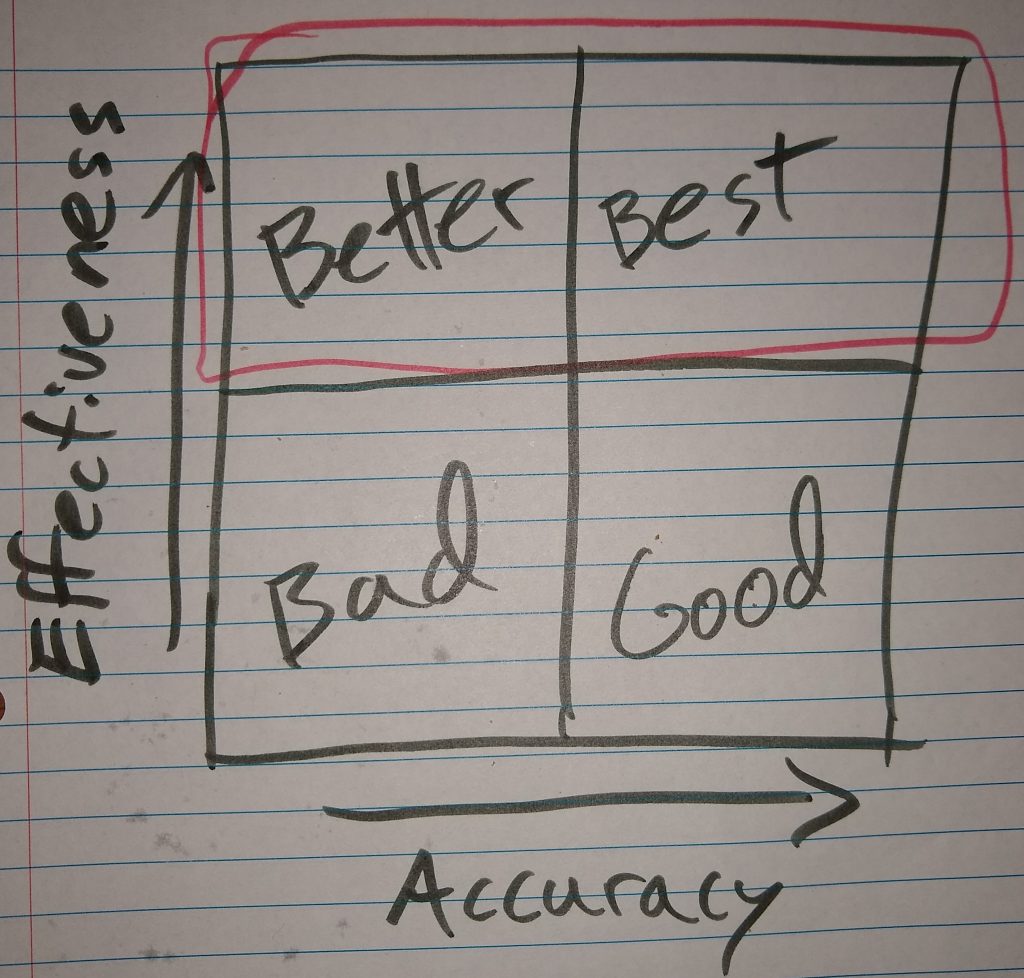 This typology of interpretations is simple. A lot could be said about it and about the thoughts behind it, but here I will offer just a few short comments. This 2×2 grid helps us think about the value of an interpretation.
On this 2×2, there are two parameters: accuracy and effectiveness. The obvious goal is for my interpretation to be both accurate and effective. Let's briefly consider how this chart orients us to biblical interpretation.
Accuracy
By accuracy, I mean that the interpretation is plausible within the cultural, language, historical, literary, and theological context of the biblical passage.
One of my friends in high school cross country would chant Philippians 4.13 to himself all the time while running: "I can do all things through Christ who strengthens me." While this verse is inspiring to cross country runners, dieters, and people changing habits the world over, those are all "inaccurate" interpretations of the text. In literary and theological context, Paul is not talking about being able to do "anything" through Jesus' strength—like run a long way or loose weight—but about being able to bear up in his ministry in whatever situations he is in. This is a more accurate interpretation of Phil. 4.13 than as a promise that you can run a marathon, loose 20 pounds, or get up the courage to ask your boss for a raise.
The parameter of accuracy is the realm of interpretation associated most closely with academic work on the Bible: commentaries, original language study, literary analysis, historical backgrounds, and so forth. This aspect of Bible interpretation focuses on developing a more plausible understanding of any given passage.
Accuracy is important. But, accuracy is only part of the equation of good Bible interpretation. The second main component I call "effectiveness."
Effectiveness
While accuracy is a part of any good attempt at reading and understanding communication, the parameter of effectiveness deals more closely with the nature of Scripture. God's word is meant to be heard and to transform the hearer. St. Augustine of Hippo hit upon a helpful way to communicate what effectiveness in biblical interpretation entails. He writes:
"Whoever, then, thinks that he understands the Holy Scriptures, or any part of them, but puts such an interpretation upon them as does not tend to build up this twofold love of God and our neighbor, does not yet understand them as he ought."
The basic insight is this: God has an intention for his communication in Scripture. God reveals himself with the intention of changing people who hear him. We are to grow in love for God and grow in love for neighbor. Augustine reasons that a good interpretation of Scripture is one that results in growing love for God and love for neighbor. After all, since that is the goal of God's self-disclosure, it should be the result of rightly understanding it.
So what is a good interpretation?
This 2×2 graphic highlights the way the parameters of accuracy and effectiveness interact. The worst sort of interpretation is one that is neither accurate nor leads to growth in love for God and love of neighbor. An accurate but ineffective interpretation is better in that it at least understands the message of the text, even if the understanding does not result in any change.
I suggest that an inaccurate understanding of the text which results in effective life change in loving God and loving neighbor is better than an accurate but ineffective reading. Why? Because it grasps the big intention behind Scripture, even if it misses the details.
The best understanding is one that is both accurate and effective. One that both engages with and understands the message of the text in a plausible way and which directs the reader to deeper love of God and love of neighbor.
Hearing God in his word is meant to be transformative. There is much to commend in the saying—heard in many different forms and on many different lips—that the most important interpretation of Scripture is the one that you live. Accuracy safeguards the direction of our living and effectiveness refers to the motion in our lives toward God and toward others.