Christmas time is a good time to talk about generosity. In fact, it is probably the best time of the year to talk about generosity since most people are in a more generous mood around this time of year—or are trying to coach themselves into feeling more generous. Perhaps it is nostalgia, perhaps people fear Ebeneezer Scrooge's fate, or perhaps it is the time of year many set aside to experience joy in giving to others. Some are doubtlessly moved along on the binge-purge cycle of guilt and give generously to make space for a new load of stuff anticipated to arrive over the holiday season. Whatever the case may be, there is benefit in thinking a little about generosity and what it is.
In our recent trip through the book of 1 John, we came across this zinger of a verse:
But if anyone has the world's goods and sees his brother in need, yet closes his heart against him, how does God's love abide in him? Little children, let us not love in word or talk but in deed and in truth (1 John 3.17-18 ESV)
This verse raises difficult questions fir a relatively wealthy society about wealth and poverty. A larger amount of people than at any other point in recorded history "have the world's goods" and are not in obvious need (though let us never forget the many people around us who are in need, even if we don't see it). Rather than tackle the whole, complicated topic of wealth, poverty, and generosity from a biblical perspective, I want to highlight some interesting work on generosity from Thrivent Financial, in partnership with the Barna the research group.
Generosity Expressions looks at the "how" instead of the "how much" of being generous
In the church world, people are often familiar with the idea of tithing. Tithing refers to the practice of giving 10% of your income, generally to church. It is rooted in the Old Testament Law given to the nation of Israel (though, in practice, it seems that ancient Israelites gave a good bit more than 10% in mandated offerings). Tithing is just one of many ways that people in churches talk about generosity through financial gifts. In fact, for many in the church context, the language of generosity is the language of finance.
Rather than talk just about giving money—which is certainly an important part of the picture of generosity—let's think about generosity through the perspective of Thrivent Financial's innovative Five Generosity Expressions.
Here they are: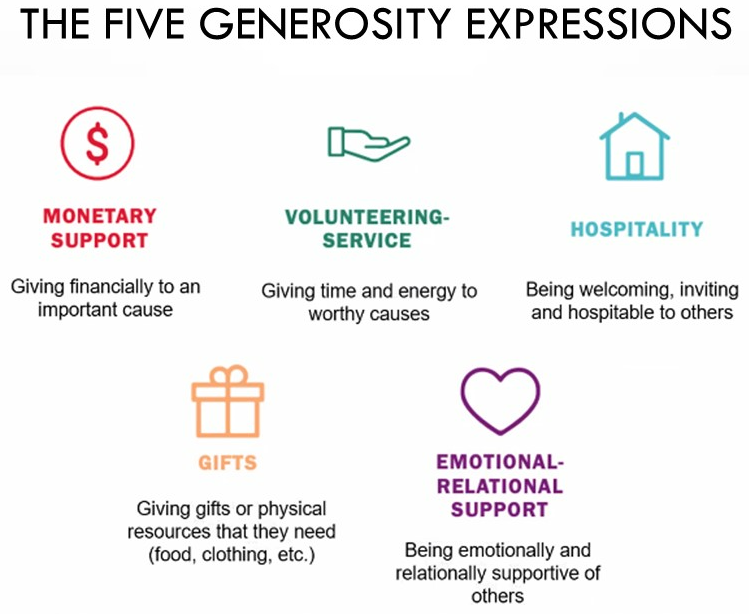 Thrivent developed these helpful five categories as a way to describe how people give and receive generosity.
Take a moment and ask yourself the following questions:
Which generosity expression do I gravitate towards?
Which one of these do I least associate as an expression of generosity?
Which expression of generosity would I most like to receive?
Loving in deed and truth
A robust, biblical picture of generosity certainly involves what we do with our money. But these other facets of generosity are not to be discounted.
From a strictly biblical perspective, I would be inclined to say something like this. Monetary support and Gifts closely correlate to the biblical idea of "giving alms." That is, people giving money to care for the needy, to provide opportunity for those without it, and so forth. The other categories of generosity which Thrivent develops could be wrapped into a larger category: living in community. They are the sorts of ways that people can and do bless each other in acts of service and relationship.
During Christmas time, maybe take a little time to consider what people you know that are operating at a low ebb and could benefit from a visit, or thank you, or an invitation out. And think about being generous in this way not just as something to "throw in" during the Christmas season. If you are like most people, throwing much more in this time of year may result in a mental breakdown.
Instead, think about how over the course of the coming year you can be generous with your time, presence, and emotional-relational support to some people who could use it.
The greatest gift
People often call Jesus "the greatest gift of all." And that is true. As you consider being generous and different ways to be generous, consider that God's generosity meets people in all areas of life, and in all the messy needs of life, not just the ones that we can write checks to help with